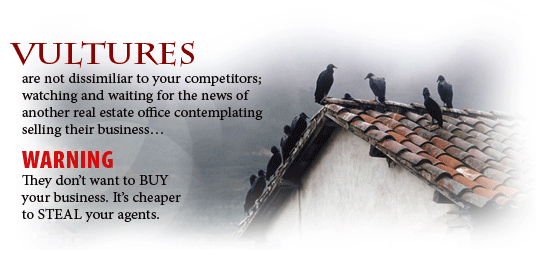 RULE #1:  When Selling Your Real Estate Office...

NEVER, NEVER, NEVER tell a real estate broker or especially an ordinary business broker you plan to sell your business!

Do it and within 48 hours vultures will be circling (recruiters looking to hire your agents) and you will be left with a dead carcass of a real estate office.

We've all seen them – whether fax or email; solicitations from biz brokers or you get a cold-call solicitation by phone.

BE CAREFUL WHAT YOU SAY!

Just a simple, "Well, maybe I'd be interested..." and you may already be sunk. The rumor of a sale is out – and it will spread.

Consider this scenario:

After years of building your real estate company, you one day decide to retire and cash out. You've seen fax and email solicitations from business brokers, or at least they say they are (they could be your competitor looking). So you make the call to find out what your business might be worth.

STOP!

What are your choices?

Let your star performer take over the business

Call Realty Office Business Brokers

RULE #2:  Refer to Rule Number One.

Not unless you want a pack of hungry wolves hunting down your roster of agents – before you ever make the sale!

Nothing will evaporate your opportunity faster than, "I'll just make a couple of well placed phone calls to test the market." It seems so innocent, but time after time, here's what really happens:

Your confidentiality is immediately compromised and the 'news' spreads quickly. (Actually, it's more like wildfire.)

Within a few days – perhaps even a few hours – your agents are already receiving recruiting calls and letters from scavenging competitors.

Your top agents – the real go-getters – won't sit on their hands waiting to see what you do next. They're the ones with the most at stake – the ones who will be out exploring the deals, analyzing other offers. And once the first one goes, the dam is cracked.

When the leaders move, others follow. Your roster shrinks like untreated cotton in an electric dryer.

You lose your listings and your buyers bail. The successful business you had up and running just a few weeks earlier is now crumbling around you.

Helplessly, you watch the value of your company diminish by the day. And the price you had in mind earlier in the same month is no longer realistic.

Fortunately, there is a way to protect your interests.

Let Realty Office Business Brokers arrange for the sale of your brokerage quickly and quietly. As a confidential intermediary, we maintain your anonymity until the last possible moment. Your identity is never revealed until after all parties are signed to Non-Disclosure Agreements. Often, we arrange for brokerage sales to:

Companies that are looking to increase market share

Private investors who contract with third party companies to operate the business on their behalf

Agent teams looking to go independent and expand simultaneously

Either way, your competition never knows until after the sale is closed, so they can't erode your greatest asset – your agent roster – prior to the sale.

Want to get started? Call us today for an initial discussion. It's strictly confidential, which means it's in your best interest.

CALL US TODAY AT (314) 414-4242